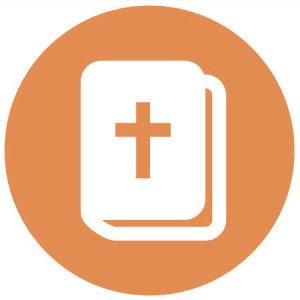 We believe the Bible is the only inspired Word of God. That makes it the only source of truth in this world. While the Bible needs to be taught and applied, we believe that it should be understood literally and that it does not need special interpretation. Everything we do, believe, and teach is based on what God has given us in the Bible. Below is a summary of our Bible-based beliefs:
God's Revelation
We believe that there is only one true God (Isaiah 44:6). He has made himself known as the triune God, one God in three persons. This is evident from Jesus' command to his disciples to baptize "in the name of the Father and of the Son and of the Holy Spirit" (Matthew 28:19).
Creation, Man, and Sin
We believe that the universe, the world, and the human race came into existence in the beginning when God created heaven and earth and all creatures (Genesis 1,2). We believe that God created Adam and Eve in his own image (Genesis 1:26,27), that is, holy and righteous. Their thoughts, desires, and will were in full harmony with God (Colossians 3:10; Ephesians 4:24). They were furthermore given the capacity to "subdue" God's creation (Genesis 1:28) and the responsibility to care for it (Genesis 2:15). We believe that Adam and Eve lost their divine image when they yielded to the temptation of Satan and disobeyed God's command. This brought upon them the judgment of God: "You will surely die" (Genesis 2:17). Since that time all people are conceived and born in a sinful condition (Psalm 51:5) and are inclined only to evil (Genesis 8:21). "Flesh gives birth to flesh" (John 3:6). Since all people are by nature dead in sin and separated from God (Ephesians 2:1), they are unable to reconcile themselves to God by their own efforts and deeds.
Jesus and Redemption
We believe that Jesus Christ, the God-man, was sent by the Father to redeem all people, that is, to buy them back from the guilt and punishment of sin. Jesus came to fulfill the law (Matthew 5:17) so that on the basis of his perfect obedience all people would be declared holy (Romans 5:18,19). He came to bear "the iniquity of us all" (Isaiah 53:6), ransoming all people by his sacrifice for sin on the altar of the cross (Matthew 20:28). We believe that he is the God-appointed substitute for all people. His righteousness, or perfect obedience, is accepted by the Father as our righteousness, his death for sin as our death for sin (2 Corinthians 5:21). We believe that his resurrection gives full assurance that God has accepted the payment he made for all (Romans 4:25).
Justification
We believe that individuals receive this free gift of forgiveness not on the basis of their own works, but only through faith (Ephesians 2:8,9). Justifying faith is trust in Christ and his redemptive work. This faith justifies not because of any power it has in itself, but only because of the salvation prepared by God in Christ, which it embraces (Romans 3:28; 4:5). On the other hand, although Jesus died for all, Scripture says that "whoever does not believe will be condemned" (Mark 16:16). Unbelievers forfeit the forgiveness won for them by Christ (John 8:24).
We believe that sinners are saved by grace alone. Grace is the undeserved love of God for sinners. This love led God to give sinners everything they need for their salvation. It is all a gift of God. People do nothing to earn any of it (Ephesians 2:8,9).
Good Works, Prayer
We believe that faith in Jesus Christ always leads a believer to produce works that are pleasing to God. "Faith by itself, if it is not accompanied by action, is dead" (James 2:17). As a branch in Christ the vine, a Christian produces good fruit (John 15:5).
We believe that a life of prayer is a fruit of faith. Confidently, through faith in their Savior, Christians address their heavenly Father with petitions and praise. They present their needs and the needs of others, and they give thanks (1 Timothy 2:1). Such prayers are a delight to God, and he grants their requests according to his wisdom (Matthew 7:7,8; 1 John 5:14).
Means of Grace
We believe that God bestows all spiritual blessings upon sinners by special means established by him. These are the means of grace, the gospel in Word and sacraments (Holy Baptism and Holy Communion). We define a sacrament as a sacred act established by Christ in which the Word connected with an earthly element gives the forgiveness of sins.
Church and Ministry
We believe that there is one holy Christian church, which is the temple of God (1 Corinthians 3:16) and the body of Christ (Ephesians 1:23; 4:12). The members of this one church are all those who are the "sons of God through faith in Christ Jesus" (Galatians 3:26). The church, then, consists only of believers, or saints, whom God accepts as holy for the sake of Jesus' righteousness, which has been credited to them (2 Corinthians 5:21). These saints are scattered throughout the world. All people who believe that Jesus is their Savior from sin are members of the holy Christian church, regardless of the nation, race, or church body to which they belong.
Church and State
We believe that not only the church but also the state, that is, all governmental authority, has been instituted by God. "The authorities that exist have been established by God" (Romans 13:1). Christians will, therefore, for conscience's sake obey the government that rules over them (Romans 13:5) unless that government commands them to disobey God (Acts 5:29).
Jesus' Return
We believe that Jesus, true God and true man, who rose from death and ascended to the right hand of the Father, will come again. He will return visibly, in the same way as his disciples saw him go into heaven (Acts 1:11).